If you work from home or planning to start your online business, you may need to pay more attention to your home office. Since you will be spending a lot of time in that room, you can elevate the space and follow some simple tips that will help you turn your home space into an effective money-making machine.
There are a lot of important things to consider that can give you or take away your motivation. Additionally, you want your home office to be efficient and comfortable at the same time. So, in this article, we will go through some of the tips that will help you create your home office.
1. Pay Attention to Ergonomic Rules
There are certain rules you need to follow just to make your workspace comfortable and to avoid health issues in the future. Most of the rules are really straightforward, but we still don't put them into practice.
For instance, your computer screen should be directly at eye level or little below. That way, as you read down, your eyelids naturally close a bit and moisten, which reduces eye fatigue.
The position of your keyboard is also crucial. Your forearms need to be parallel to the floor to get the right blood circulation. You should also adjust your chair, so your feet rest firmly on something.
All of these rules might seem obvious, but they are a lifesaver if you want to avoid health issues in the future.
2. Natural Light Is Important
Avoid putting your office in the darkest room in your home or apartment. You should move your desk and place it parallel to the windows. That way, you will have a lot of natural light, which comes with many benefits like improved efficiency and happiness.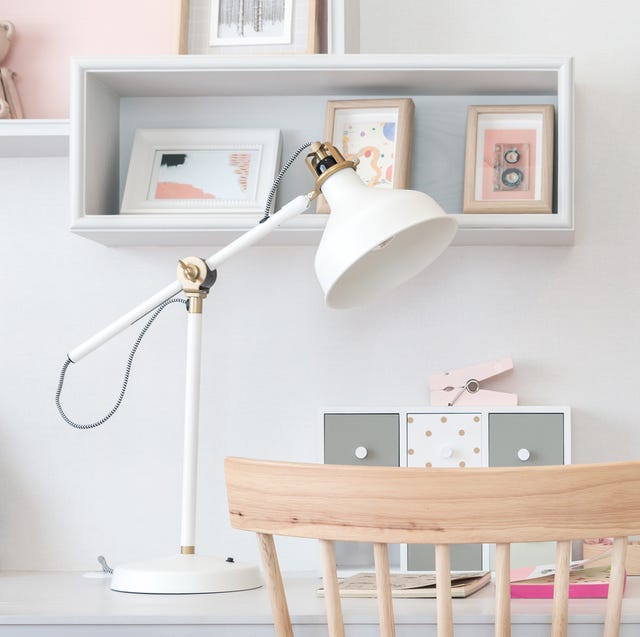 3. Don't Forget About the Lights
Natural light is important, but you also need lights for the late hours. Scientists performed several tests in the past in different lighting, which resulted in a 50% reduced efficiency due to poor lighting.
So make sure you have enough lights to brighten up the room and help you work more efficiently.
4. Add Plants to Your Home Office
Plants are the best way to brighten up your office and create the ultimate atmosphere that gives a feeling of happiness. They are also great for filtering the air inside your room. Just make sure you get plants that can go a few days without water when you are out of office.
5. Prioritize Comfort
Since your home office is where you will be spending most of the time, you need to create a comfortable space. The two most important things in your office are the desk and your chair. However, you need a place to think or read, so adding a comfy chair will improve your office.
6. Get Creative With Storage
There is nothing worse than a cluttered home office. If you have many things lying around your office will look like a pile of mess. An overly cluttered home office will kill your motivation and inspiration, so it is very important to get creative with storage.
Find the right cabinets or shelves for storing your documents or books. Just make sure your home office always is clean.
7. Build up Stock
If you are running in and out of your office every few minutes to get supplies, you are not using your time efficiently. Try keeping a small stack of supplies like pens, stapler, scissors, stamps close by, so you don't need to get off your chair.
Final Words
By following these rules, you will be able to improve your efficiency and work like the teams leading the odds in BetAmerica's NBA betting page. Also, you will improve your mood and draw inspiration to conquer even more goals with your business. Accumulate the right tools for your workspace and spark creativity from your new and efficient environment.